Have you ever seen people dancing to no music, but wearing glowing headphones? Then you have witnessed a silent disco!  Quiet Events has been hosting these types of events since 2012!
What is a silent disco?
A silent disco is a party where there is no music playing through a speaker system. You can only hear the music playing through glowing headphones. On the headphones, you can rotate anywhere from three to ten channels of music. You can adjust the size of the headphones, as well as the volume, to your preference. Check out what an in-person party can look like here.
Don't have 1000 friends and three live DJs standing by? No problem! Easily host parties of all ages, as small as 10 people, in your backyard.
Here are 21 benefits of hosting a silent disco party so you can have the time of your life at your next event.
Party outdoors without bothering your neighbors
In the age of social distancing, having an indoor party is not necessarily ideal. Easily have your party in your backyard without any loud noise (except maybe your singing).
Host the silent party anywhere, no power outlets needed
If you rent from Quiet Events, they provide cordless transmitters, headphones, and mics, with a 12-hour charge, so you can literally party anywhere without needing power.
Stay socially distanced from other attendees
If there is a need to stay socially distanced, you can easily stay 6 feet away from your dancing partner, and still have a good time. You will be able to tell which channel of music they are listening to and join them in their dance moves.
No DJ required
Set up is simple when you host a silent disco party. You just need anywhere from one to ten sound devices with playlists downloaded to each device. Anyone, at any age, can set up the system, watch the video here to show you.
Control the volume
On each headphone, you get to control how loud or soft you want to hear the sound. People with disabilities such as Autism and Hyperacusis can party alongside you, with no sound issues.
No heavy speaker system required
There are no heavy speaker systems to be dragged into the event space. The sound streams through everyone's headphones, so your party also will not be shut down due to any noise ordinances.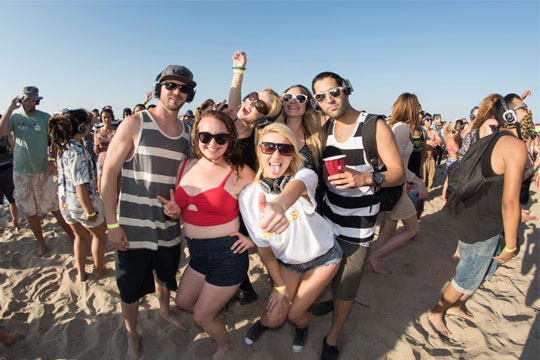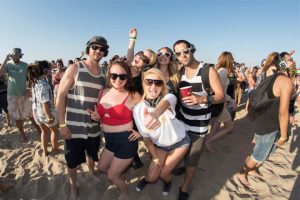 Communicate with your friends easier
Have you ever had a hard time hearing your friends at the club? Well not at a silent party. Place the headphones around your neck to easily have a conversation with your friends, since there is no loud music blasting through speakers.
Never get bored with the music
With anywhere from three to ten channels of music, the chance of you not finding something to listen to is slim to none. Never be bored again with the music selection at an event.
Save money
No need to pay a high cover at a club anymore when you host a silent event. Rentals start as low as $6 a headphone, request a quote to learn more.
Cut out distractions
Wearing headphones means you are more focused on the music. Think of it as the shower mentality, singing along without anyone "listening". For people with disabilities, they have the power to control the volume and cut out any outside distractions so they can also feel included.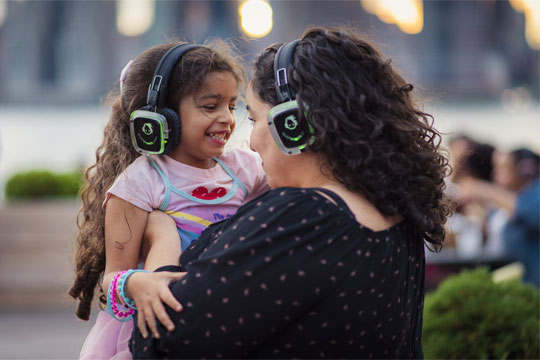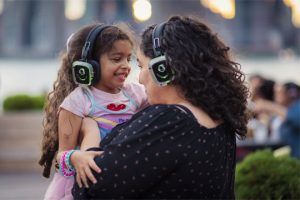 The bartender gets your drink order right
Have you ever ordered a drink at a bar or club with blasting music and the order comes out wrong? That's never a problem at any silent disco party. Whoever is making your drink, your friend, or hired bartender, the order will come out correct each time.
Feel comfortable
Do you consider yourself a wallflower? Or maybe you think you are too old or too young for certain events. You won't have that problem at a silent disco. All ages and personalities become one large dancing and singing family, making everyone feel welcome.
Have the option to use your own headphones
Don't love the idea of using rented headphones? Not a problem. Companies like Quiet Events rent belt clips, so you can plug in your personal headphones to the device, while still being able to switch between three channels of music.
Make new friends at a silent disco
Whether you are a guest at a silent disco or maybe hosting a neighborhood one, you can easily make new friends. Pay attention to what colors everyone's headphones are and migrate over towards them on that channel, to show them you also love the song they are listening to. Smile, have some laughs, and sing the night away with your new friend.
No ringing in the ears at the end of the night
At the last concert or live DJ performance you attended, did you leave with a ringing in your ears due to the loudspeaker system? That's never a problem at a quiet event, make the party as loud or as soft as you want.
 Sing your heart out like at Karaoke
Do you love karaoke? Well, a silent disco can feel just like that, without judgments from your peers, since they can't hear you anyway! So sing your heart out all you want.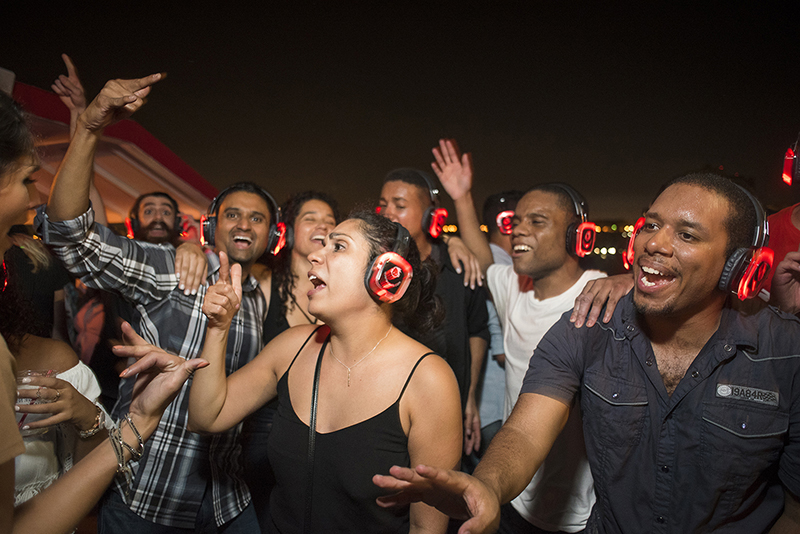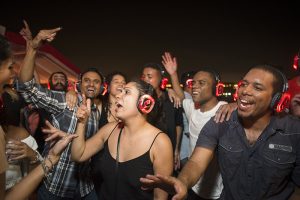 Reduce anxiety
Whether you are hosting or attending a silent disco, wearing the headphones can reduce anxiety when you are around large crowds. You can easily stay i